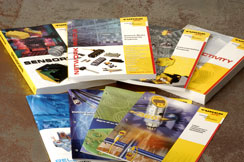 The most up-to-date compilation of TURCK USA publications can be found on this site.
Browse through the many catalogs, brochures and miscellaneous literature to find the publication that matches your interests.
Click on the left hand menu to view catagorized sections of literature.
You may also click on 'View All' to see a full list of available literature.
To request a copy of these free materials, simply click on 'Add literature to cart' next to the picture of the publication.
Note: individual catalog pages, data sheets, etc. are accessible via unique part or ID number searches.